The Bay
70% Off All Henckels Cookware Sets During Bay Days at The Bay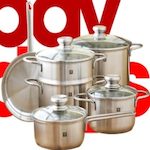 This deal has expired!
Mother's Day is around the corner and if you want to get her something practical, The Bay is marking down their cookware in stores and online during Bay Days. Right now, all Henckels Cookware Sets are 70% off!
Here's a quick look at what's available online:
Orders of $99 or more will ship for free from TheBay.com. Bay Days pricing is valid until April 19.