Real Canadian Superstore
Superstore Dollar Days: McCain Ultra Thin Crust Pizza $3, Whole White Mushrooms $1 & More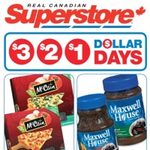 This deal has expired!
The Real Canadian Superstore's Dollar Days starts today. Now through May 3, select items are $1, $2 or $3. Some of the dollar deals (from the Ontario flyer) include:
McCain Ultra Thin Crust Pizza (Assorted) $3
Maxwell House Instant Coffee (200 g) $3
Rougemont Apple juice From Concentrate (1.05 L) 2/$1
Whole White Mushrooms (227 g) $1
Rooster Brand Tofu - Firm or Medium (420/454 g) $1
Schneiders Bologna or Country Naturals Sliced Meat (Assorted, 175-500 g) $3
McCain Delite Frozen Cakes or Cream Pies (Assorted, 284/340 g) 2/$3
Campbell's Creams/Broths or No Name Chicken Broth (284 - 900 mL) $1
Uncle Ben's Bistro Express Rice/Risotto (240/250 g) $2
Stouffer's Bistro Crustini, Panini, Pizzeria, Melts, Sliders or Lean Cuisine (170-340 g) $2
Cadbury Finger Original (125 g) $1
Selection and pricing may vary by location.
View your local flyer at Superstore.ca
.