M And M Foods
M&M Meat Shops Charity BBQ: Burger, Drink + Chips for $3 on Saturday, May 12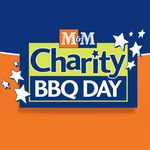 This deal has expired!
This once-a-year deal is back again! On Saturday, May 12 from 10 AM to 4 PM, M&M Meat Shops is having their annual Charity BBQ. You can get a drink, chips and a hamburger or hot dog for a $3 donation. This year they're aiming to raise $1.5 million dollars. As always, all the money raised goes to the Crohn's and Colitis Foundation of Canada.
This offer is available at all M&M Meat Shops locations across Canada -- use the store locator is here to find the one nearest you. If you'd like to volunteer for this event, get more information here.