Macs Convenience
Mac's Ontario: $1 for Any Size Froster & 50¢ Coffee Refills (Until May 27)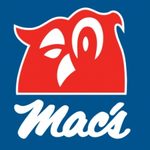 This deal has expired!
Mac's Convenience store has a couple new promotions running for the month!
With the weather finally warming up, you may be interested to hear that all month long, you can get any size Froster for $1. The Froster is a Slushie-like drink that makes the perfect companion for a day out and about enjoying the summer weather.
If you're looking for a caffeinated beverage, there's also a promo on coffee refills. Right now, you can get a coffee refill (up to 20oz size) for 50¢. Mac's serves Seattle's Best coffee.
Both promotions are running now through May 27 at participating Mac's locations.