Kellogg's
Kellogg's Share Your Breakfast Promotion - Coupons For Free Breakfast Items w/Select Cereal Purchases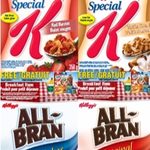 This deal has expired!
There may be no such thing as a free lunch, but if you collect these
coupons from select Kellogg's cereals
, you can enjoy a free breakfast! When you purchase specially marked boxes of Special K and All-Bran cereals you'll receive a PIN code to be redeemed at
www.kellogg.ca/SYB
for a coupon for one of the following items:
Silk True Almond or Silk Soy Beverage (946ml or 1.89L) up to a $4.99 value
Danone Activia Plain Yogurt tub (650g) up to a $3.99 value
Free Tetley Perk (72 count) or Tetley Green Tea (24 count) up to a$5.99 value
Eggo Waffles (8 count) up to a $3.49 value
V8 V-Fusion Light or Regular (1.36L) up to a value of $4.00
Bananas (2 lb) up to a $1.69 value
You can select any coupon you wish, one per PIN code. Expect your coupon to take 2-4 weeks to arrive. Coupons must be requested by July 30 and redeemed by September 15, 2012.