LifeMadeDelicious.ca
General Mills: Free Olympics 2012 T-Shirt or Flip-Flops With Purchase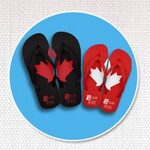 This deal has expired!
Snack your way to free Canadian Olympic gear with this offer from General Mills. When you purchase one specially marked package of cereal you can get a free shirt, purchase two specially marked packages of Nature Valley Granola Bars or Betty Crocker Child Snacks and you'll get a free pair of flip-flops.
Here's how it works:
Find your redemption code(s) on the inside of your specially marked package
Visit this page to enter your code(s) and select your size
Wait 8-10 weeks for your free shirt or flip-flops to arrive in the mail, shipping and handling is free
For a full list of eligible cereals/snacks for this promotion go here. Limit of five free items per household, 400,000 shirts and 100,000 pairs of flip-flops are available in total. T-shirts are available until August 31 and flip-flops until September 30, while supplies last.