Cadbury Canada
Freebie: Free Cadbury Chocolate Bars (Via Facebook)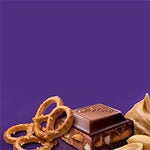 This deal has expired!
May 11 update: Because they experienced technical difficulties during last week's freebie, Cadbury has relaunched it! This freebie will run until all 15,000 bars have been given away.
Originally posted May 4: Over on their Facebook page, Cadbury is giving away free chocolate bars this week! Right now, you can show a friend some love on their Facebook page by sending them a chocolate-gram.
There are 2,111 free chocolate bars available in the Share The Joy Tab. You will need to grant an application access to your Facebook account in order to take part. Pick a friend to whom you would like to send a chocolate bar, and then you'll be prompted to enter your mailing info to receive yours.
In order to participate, you must be 18 or older.