Coffees of Hawaii
Coffees of Hawaii: 8oz Bag of Year of the Snake Naheka Coffee - $13.24 w/Free Shipping, Ends Jan 23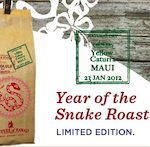 This deal has expired!
Celebrate the Year of the Snake with this offer from CoffeesofHawaii.com -- for three days only, you can pick up an 8oz bag of their Year of the Snake Naheka Coffee for just $13.24 with free shipping.
To redeem, just enter our exclusive coupon code REDFLAGDEALS at checkout by January 23.
The Naheka blend combines Maui, Hilo and Oahu beans for a dark roast limited-edition coffee. You can choose between whole, coarse, regular, drip, and espresso grinds. The regular price for the 8oz bag is $17.89, so you'll save $4.65 plus the shipping costs with this promotion.