TradePub.com
TradePub: Free Trade Magazine Subscriptions inc. Oracle Magazine & Global Finance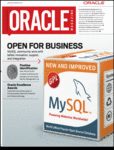 This deal has expired!
TradePub is a magazine service that offers subscriptions to industry specific publications. Subscriptions are free as long as you work in the relevant industry. Economically, we're not out of the woods yet, so keeping up to date with the latest developments in your industry only makes sense. Here are some of the titles available at
RedFlagDeals.TradePub.com
:
Subscriptions are once again being accepted for Oracle magazine. If you haven't signed up for it before, now is your chance!