H And R Block
H&R Block: Save 67% on Tax Software through April 30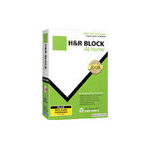 This deal has expired!
We're coming down to the wire for tax season! If you still haven't done your taxes yet, you can get some big savings right now on H&R Block tax software. Right now, you can get 67% off H&R Block At Home Tax Software by entering promo code REDFLAGDEALS67 or promo code 10BLOCK at checkout. This promo code is valid through April 30.
In addition to your purchase, you'll also get free audit assistance ($75 value) as well as a copy of Canadian Tax Tips for Dummies.
Note: H&R Block At Home Tax Software is not compatible with Mac operating systems, but Mac users can still take advantage of the H and R Block At Home Online version.
For more information, or to get started, visit HRBlock.ca.