Earn 500 Scene Points by Making Withdrawls with Scene Debit Card @ 7-Eleven Scotiabank ABMs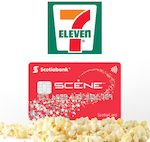 This deal has expired!
If you have a Scotiabank SCENE Debit card, you can earn up to 500 points for free between now and April 30, 2013. This can only be done at 7-Eleven stores with Scotiabank ABMs.
Here's how it works: use your SCENE debit card at a Scotiabank ABM in a 7-Eleven store, and earn 250 SCENE points. Use your card 3 more times at a Scotiabank ABMs in 7-Eleven stores before April 30th, 2013 and you will earn an additional 250 SCENE points. That adds up to 500 points and puts you half way to a free movie -- not too shabby if you have a 7-Eleven close by!