Subway: $5 Footlongs Are Back (At Participating Restaurants)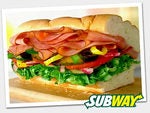 This deal has expired!
The $5 Footlong promotion is back at Subway! This means you can get a footlong cold cut combo, veggie delite, ham, egg salad or pizza sub for just $5.
There's confirmation that the offer is available in Canada on Subway's Canadian Facebook page, but keep in mind that participation may vary so confirm that your local Subway is taking part in the promotion before ordering.