Get Toronto Blue Jays Tickets in the 200 Level + All You Can Eat Privileges for $39 (Select Games)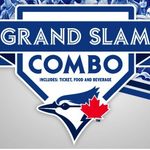 This deal has expired!
The Toronto Blue Jays Grand Slam Combo is back for 2013! For $39, you get a 200-level outfield ticket to see a Blue Jays game along with all you can eat hot dogs, nachos, popcorn, peanuts, apples, chips and soft drinks.
This is a popular offer, so we'd suggest booking your tickets online as soon as possible. Eligible game dates are:
Thursday, April 14 (vs. Cleveland Indians)
Thursday , April 18 (vs. Chicago White Sox)
Thursday, May 23 (vs. Baltimore Orioles)
Friday, June 7 (vs. Texas Rangers)
Thursday, July 4 (vs. Detroit Tigers)
Thursday, July 25 (vs. Houston Astros)
Thursday, September 12 (vs Los Angeles Angels)
Friday, September 27 (vs. Tampa Bay Rays)