Walmart
Walmart.ca: Select Nintendo 3DS Games on Sale for $28.83, Mario Tennis, NSMB2, MarioKart 7 and More!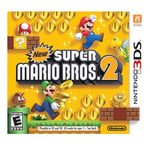 This deal has expired!
Just because school is in session doesn't mean you can't kill time between lectures and study sessions with some quality video games. If you happen to own a Nintendo 3DS but haven't yet amassed a large library of games, Walmart has put some of the handheld's better titles on sale. Here's a quick look at what some of our forum users have found:
Normally, you're looking to pay around $10 more for each title so you'll want to pick these up while they're on sale. First party Nintendo games also rarely go on sale or see permanent price drops so there's no point in waiting if you're interested in any of the above.
The games qualify for free shipping but there's no word on when the sale will end so you'll want to get those orders in soon to avoid missing out.