Walmart
Walmart.ca: Lego Batman 2: DC Super Heroes Walmart Exclusive Bundle (360/PS3) $49.83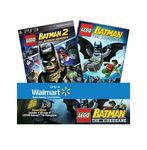 This deal has expired!
Video game fans excited about the newest Lego Batman 2 title will definitely want to check out these exclusive PS3, Wii and 360 bundles courtesy of Walmart. Forum poster whitefinger has found the Lego Batman 2: DC Super Heroes Bundle, which includes the first Lego Batman game, on sale for $49.83. This is an awesome deal considering the MSRP of Lego Batman 2 is about $49.99 on its own. If you've never played the first game in the series, and even if you have, this is the bundle to get.
The deal is available online and in-store but likely only for a limited time. If you don't have any luck finding it at your nearest Walmart, shipping is $0.97.