Vistek
Vistek.ca: Tenba Shootout Convertible Sling Photo Bag (Medium) $69.95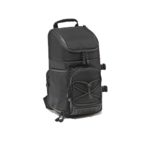 This deal has expired!
New digital SLR owners in the market for a convenient travel bag will definitely want to check out Vistek's One Day Deal. For today only, you can pick up the Tenba Shootout Medium Convertible Sling Photo Bag for $69.95. Though $70 for a bag might seem a bit excessive, it's worth a look if you have multiple lenses to carry and if convenience is high on your priority list.
The first, and most obvious, thing to note is that this is not a traditional photography bag. Its sling design allows you to carry your equipment on your shoulder, retrieve your camera and stow it away without ever having to remove it from your body. This comes in very handy while on vacation or anywhere, really, as you don't have to separate yourself from your expensive lenses and accessories.
Similar bags cost about the same so, in the end, it all comes down to which is on sale and which suits your needs most. The Tenba Shootout is able to hold 1-2 DSLR bodies with 3-4 lenses, flash and accessories or can be adjusted to fit 1 DSLR with an attached 400mm lens. Weather-sealed YKK zippers, water-resistant nylon and quick access rain cover also make this a pretty good choice.
If you're interested, you have until 9pm EST to place an order. Shipping starts at about $10.