Toronto: CNE Opening Day $1.75 Admission; $5 After 5 PM Monday-Thursday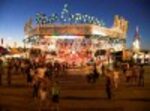 This deal has expired!
August 19 Update
: Opening Day is around the corner! On August 21 (that's Friday), admission to The Ex is just $1.75.
Originally posted June 20
: It's still early in the Summer but if you're planning ahead, consider going to the
Canadian National Exhibition (CNE) in Toronto, AKA the Ex, on opening day -- you'll pay just $1.75 for admission
(PDF link). General admission is regularly $15 so going on opening day Friday, August 21st can save you and your family quite a bit.
If you can't make opening day, they've brought back
$5 after 5PM admission on Monday through Thursdays
during the two weeks the Ex is open.