Tiger Direct
TigerDirect.ca: Diablo 3 for $39.99 After Rebate (Expires 8/25)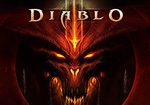 This deal has expired!
If you haven't picked up your copy of Diablo 3 yet, and still want to find your way back to Tristram, TigerDirect.ca has a pretty good deal you should look into. Right now, you can pick up a brand new copy of Diablo 3 for $39.99 after $20 mail-in-rebate. Even with mixed reviews and opinions, the game still retails for $60 new which makes this a good time to purchase a copy if you're interested.
Rebates are a pain, yes, but if you're not going to be kept up at night waiting for $20, this is a good deal. The rebate expires on August 25 and will only be applied to purchases made from July 26 through August 25. The rebate form can be found here.
The deal is live now and is available online and in-store. Thanks to hermit1988 for sharing this one with us!