Amazon
The Da Vinci Code by Dan Brown is Free in eBook Form from Amazon, Google, Kobo, B+N and More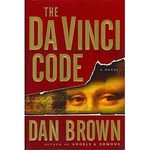 This deal has expired!
The Da Vinci Code by Dan Brown was published ten years ago, and to celebrate, a whole bunch of retailers are offering the eBook version of it for free! Here's a look at where you can pick it up:
At full price, the book has a value of about $9.99. The freebie is available through March 24. Happy reading!