STEAM
Steam Weekend Deal: Batman Arkham City $14.99 US (Reg. $29.99 US)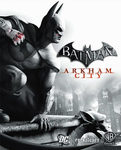 This deal has expired!
If you were a fan of Batman Arkham Asylum and haven't yet picked up Arkham City, you might want to head on over to Steam where they have a Weekend Deal you'll probably want to get in on. Until Monday at 1pm EST, you can download Batman Arkham City for $14.99 US; down from $29.99 US and perhaps the best superhero video game ever made. Arkham City continues the story of the original Batman and received very favourable reviews.
We've seen the PS3 and Xbox 360 versions of the game go as low as $29.99 so, if you're a PC gamer as well, this would be a great time to pick up the digital copy at a good price. Steam has also put the Batman Arkham Bundle on sale for $29.99 US which includes:
Batman: Arkham Asylum Game of the Year Edition
Batman: Arkham City
Batman Arkham City: Arkham City Skins Pack
Batman Arkham City: Robin Bundle
Batman Arkham City: Nightwing Bundle
Batman Arkham City: Challenge Map Pack
With 64 Steam achievements and an open world style, you'll definitely get your money's worth with Arkham City. If you haven't picked up either game, the bundle would be a good buy as it includes the Game of the Year version of Arkham Asylum, Arkham City and a bunch of DLC too.
The deal is live now but will expire on May 7. The game is only available through digital download via Steam.