Free Comic Book Day
Saturday, May 5 is Free Comic Book Day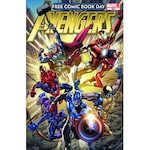 This deal has expired!
The first Saturday in May each year is Free Comic Book Day! This year that's Saturday, May 5. Free Comic Book Day is exactly what it sounds like -- participating comic book shops across North America give away a free comic book to anyone who comes into their store.
Use the Participating Store widget on the left side of the page to find the participating stores near you. This event has been running for many years -- we first posted about it in 2004! -- and it's just as simple as it sounds. Enter store, get free comic book.