NCIX
NCIX Extreme Deal of the Day: Call of Duty: Modern Warfare 3 (PC) $29.99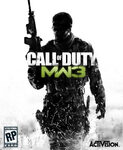 This deal has expired!
If you're looking to get into the Call of Duty craze and have a capable gaming PC, NCIX has put Call of Duty: Modern Warfare 3 on sale today for $29.99. Normally, you're looking to pay about $60 or even $40 when it's on sale via Steam so getting a hard copy at this price isn't too bad.
With post-secondary classes finishing up, this could be a good way to kill some time this summer -- if you're not into that exercise stuff.
The deal is on for today only and shipping is extra.