LiveMetallica.com Offers Free MP3 Downloads of Select Concerts from 1982-2003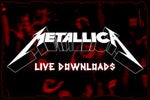 This deal has expired!
If you're a Metallica fan you'll want to check out
this collection of Free Complete Metallica Shows available for download
in MP3. Click the
Free Downloads (1982-2003)
tab to see what shows are available.
Individual shows range from about an hour to around two hours in length and contain a nice range of songs from the Metallica discography. Keep in mind that there are a bunch of other shows available for download, but at a price (usually 99¢ a song) so stick to the Free Download section if you're not looking to spend any money.