Royal Canadian Mint
Limited Edition War of 1812 Commemorative Quarters -- Ten Quarters for $2.50 + Free Shipping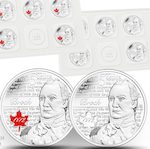 This deal has expired!
If you have an interest in coins or Canadian history, you might want to check out this offer from the Royal Canadian Mint. It's a set of ten quarters featuring Major General Sir Isaac Brock, a hero of the war. The set contains five painted quarters with a Government of Canada 1812 logo and five with the profile of Brock. This is the second in their series of Commemorative 1812 coins.
Since the offer comes with free shipping (and no tax!) you are essentially paying $2.50 for $2.50 worth of coins, but by purchasing them directly from the Mint you're getting new coins that haven't been circulated. There's a limit of two sets of coins per customer. At checkout, be sure to check the "lettermail" option to ensure you're getting free shipping.