Future Shop
Future Shop: PlayStation 3 Move Sharp Shooter Bundle w/Resistance 3 and Killzone 3 $79.99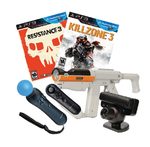 This deal has expired!
We've seen some decent PlayStation 3 Move bundles before but this one might be the one that finally makes us open up our wallets and invest. For a limited time, Future Shop has a bundle that includes the following for $79.99:
Resistance 3
Killzone 3
PS Eye
PlayStation Move Navigation Controller
PlayStation Move Motion Controller
Sharp Shooter
If you're in the market for the Move hardware, this would definitely be a good bundle to purchase. Separately, you're looking to pay much, much more so this would be a good deal to jump on before the price reverts back to its $99.99 MSRP. Resistance 3 and Killzone 3, in comparison to other Move bundles, are much better games and aren't just throw-ins like Sports Champions or Medieval Moves.
Free shipping is available.
Thanks to maritrunks for pointing this one out!