Future Shop
Future Shop More Flash for Less Cash: Save up to $100 on Cameras, Camcorders and Accessories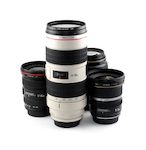 This deal has expired!
Those of you in the market for a new point and shoot camera or digital SLR might want to consider these Future Shop exclusive coupons. Until April 5, you'll be able to save up to an extra $100 using the coupon codes below:
Save $10 on Purchases of $150-$299.99 with the Coupon Code SAVE10PHOTO4
Save $30 on Purchases of $300-$699.99 with the Coupon Code SAVE30PHOTO4
Save $50 on Purchases of $700-$999.99 with the Coupon Code SAVE50PHOTOW
Save $100 on Purchases of $1000+ with the Coupon Code SAVE100PHOTON
The deal is available in-store as well but you'll need to print and clip the coupons here. While this isn't as good as the $100 camera trade in from a few months ago, this is still a good opportunity to save a bit extra if you can't wait to pick up a new piece of tech or some accessories.
The deal ends on April 5.