Future Shop
Future Shop/Walmart/Amazon: Free Avengers Movie Coupon w/Purchase of Select Blu-Ray or DVD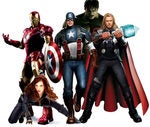 This deal has expired!
Update: Thanks to poster JonJubeTube, it looks like this isn't just a specific Future Shop deal. It appears as if select titles will contain a code of some sort which you will then need to redeem at this website. For a full list of movies you can check out the link here.
If you ever watched cartoons in the 90s, you know there were some pretty good ones to kill some time with, the X-Men and Spiderman animated series' just to name a few. Right now, with select Blu-Ray or DVD purchases, you can get a free Avengers movie coupon so not only do you get to relive some awesome 90s magic, you get to watch one of the summer's most anticipated flicks. Here's a look at some of the select Blu-Rays and DVDs:
There's a pretty good selection here so if you planned on watching the Avengers in theatres and wanted to add some of these movies to your collection, now would be a good time to do so.
Future Shop offers free shipping on orders over $20.