Freebie: Ticket to Ride Game for iPhone/iPod Touch/iPad is Free through February 6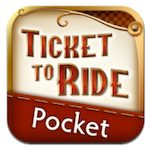 This deal has expired!
Ticket to Ride is a fun, very well-reviewed (4.5/5 stars from 3540 reviewers) app based on the popular board game and right now you can get it for free from iTunes! It's usually $1.99. The offer is available for a limited time only, so don't delay if you're interested.
If you don't have iTunes, you can download it here.