Yonge-Dundas Square
Free Concerts (Bad Religion, Flaming Lips, Of Montreal) in Yonge-Dundas Square June 14-17 (Toronto)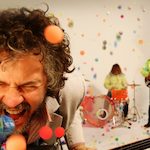 This deal has expired!
June 14 update: It's almost here! Not only are The Flaming Lips playing on Saturday night, but there's four full nights of free shows taking place in Yonge-Dundas Square as part of NXNE.
Here's a look at the full lineup for the weekend:
Thursday, June 14:
Bad Religion (9PM)
Good Riddance (8PM)
No Use For A Name (7PM)
Slaves on Dope (6PM)
Trouble Andrew (5PM)
Friday, June 15:
Matthew Good (9:30PM)
Plants and Animals (8:30PM)
Eight and a Half (7:30PM)
Saturday, June 16:
The Flaming Lips (9PM)
Portugal. The Man (8PM)
of Montreal (7PM)
Oberhofer (6PM)
Hollerado (5PM)
Art vs Science (4PM)
Ceremony (3PM)
Parlovr (2PM)
Brasstronaut (1PM)
The Burning Boyz (12PM)
Sunday, June 17:
Raekwon & Ghostface Killah (9PM)
Killer Mike (8PM)
Action Bronson (7PM)
Tre MIssion (6PM)
Tasha The Amazon (5PM)
Austin Renfroe (4PM)
Originally posted May 17: If you're a fan of the fun, upbeat indie rock band The Flaming Lips you'll definitely want to stop by Yonge-Dundas Square on Saturday, June 16 to catch their free show! Flaming Lips shows tend to include costumes, balloons, puppets and lead singer Wayne Coynes in a gigantic bubble. Enjoy!
Currently, it's not clear what time the concert will be taking place, but we'll update this post when we have that information. The Flaming Lips are appearing as part of NXNE and there will likely be other free shows involved in the festival, so stay tuned!