Entertainment
Entertainment.com (US) Tax Day Sale: All Books are $10.40 (Until April 17)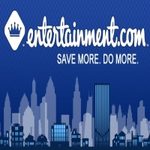 This deal has expired!
April 17 is Tax Day in the US and
Entertainment.com is running a Tax Day Sale: all books are just $10.40
until April 17! These 2012 coupon savings books normally cost $35 & up, so if you haven't snagged one yet either for the city you live in or for the city you plan to visit this year, you might want to take advantage of this offer as you'll have access to savings on local restaurants, shows, sporting events, family attractions and more. The coupons in the book are good through November 2012. You can also access online coupons as soon as you complete your order.
Participating Canadian locations include: Calgary, Edmonton, Vancouver, Winnipeg, Halifax, Toronto (GTA), Hamilton, Ottawa, Montreal, Saskatchewan, Vancouver Island and the Okanagan Valley. Saving books for popular US vacation destinations like Las Vegas, Orlando, Hawaii, New Orleans and San Diego are also available.
Keep in mind all the prices displayed at
Entertainment.com
are in US dollars. Standard shipping to Canada starts at $2.49 per item. The sale is available until April 17.