Empire Theatres Limited
Empire Theatres Student Combo: Movie Admission, Regular Popcorn + Beverage for 33% Off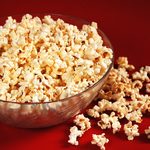 This deal has expired!
Empire Theatres
is running a nice combo offer for college and university students! You'll get a movie admission, regular popcorn and regular fountain beverage for about 33% off (exact pricing will vary according to location, but you can check out the combo cost at your local theatre
on this page
). To get the discounted price you'll have to provide valid 2011-2012 photo student ID from an accredited university or college.
Empire Theatres has locations in Alberta, BC, Manitoba, Ontario and Antigonish, NS.
Use this page
to find the Empire Theatres location nearest you. This offer expires April 30, 2012, and it is not valid from December 16, 2011 through January 8, 2012.