EB Games
EB Games: PlayStation Vita Wi-Fi with Starter Kit and Select Game $249.99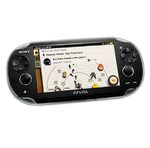 This deal has expired!
EB Games is running a Two Week Power Sale where you'll be able to get plenty of exercise for your thumbs this summer with a new PlayStation Vita bundle. After a pretty good start, the Vita tailed off as many felt the price was too high and the stream of games had already dried up. If you're still looking for one, though, there's a very good bundle available starting on July 6 which includes:
1 x PlayStation Vita Wi-Fi
1 x PlayStation Vita Starter Kit
1 of Gravity Rush, Resistance Burning Skies, Unit 13, Hot Shots Golf: Open Invitational
This is one of the better packages we've seen as it comes with a free game and the starter kit. While most wouldn't consider buying a starter kit, it does include a carrying case, ear buds, screen protector and the all important 4GB memory card. If you're looking for a Vita, it'll be hard to find a bundle that offers more right now.
If you're more of a Nintendo fan, though, the Nintendo 3DS is also on sale at $149.99. Normally, you're looking to pay $20 more so it would also be a good time to grab one of these if you haven't yet.
The deals go live on July 6 and end on July 22.