Gamestop.ca
EB Games: Dark Souls (PS3/360) $39.99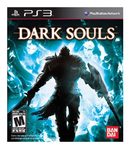 This deal has expired!
If you subscribe to the notion that video games are a bit too easy these days, EB Games has Dark Souls on sale for $39.99. This game is no walk through the park and it becomes borderline masochistic at some points with its difficult learning curve and somewhat twisted open world atmosphere. Though it ends up being a satisfying experience to finally beat the game, the journey is long, difficult and, really, should only be attempted by the most hardcore of gamers.
Those with time on their hands and an appetite for punishment should definitely check this out. Dark Souls received very good scores and was in the running for Game of the Year in 2011.
We're not sure how long the sale is on for so, if your interest has been piqued, you should head on over to EB and pick up a copy.