Canadian National Exhibition
CNE: $8 Admission on Opening Day, $5 Admission After 5PM Monday-Thursday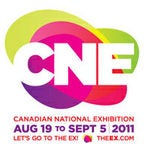 This deal has expired!
Let's go to the Ex! The CNE is back this year, and they have a few special offers coming up. On opening day on August 17, they are offering half-price admission! That means you'll pay $8 admission at the gates instead of the regular $16 cost of entry. On top of that, ride tickets will be discounted as well -- you'll be able to get 10 rides for $20 (instead of purchasing separate units of ride coupons).
If you can't make it to opening day, there's another way to save during the CNE. Visit after 5PM on Mondays, Tuesdays, Wednesdays or Thursdays and you'll only pay $5 for admission. This offer excludes Labour Day Monday.
The CNE is open from August 17 to September 3, so there's lots of time to take advantage of rides, shopping, deep fried foods and, of course, the air show!