Canada Computers And Electronics
Canada Computers: Koss Porta Pro On-Ear Headphones $39.99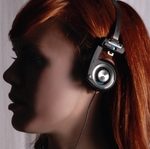 This deal has expired!
Over in the forums, mrsamsa spotted a pretty decent deal on a well-received, portable headset you might want to look into. Right now, Canada Computers has the Koss Porta Pro Headphones on sale for $39.99. Despite the headphones' aesthetics, it received over a thousand reviews and scored a high average rating (4.5 out of 5) at Amazon.com with most praising the sound quality and the comfortable fit.
If you're interested, the headphones are on sale online and in stores until May 17 but we recommend you act sooner rather than later as we've seen deals like this end early due to limited supplies. Standard shipping starts at $7.99 (may vary by location). If you want to avoid shipping costs, you may pick up these headphones in store at no extra charge. These headphones come with a lifetime limited warranty. To learn more, visit CanadaComputers.com.