Blacks
Black's.ca: 75 5x7 Prints for $10 (Aug 3-7)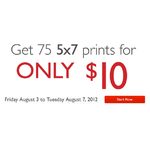 This deal has expired!
If you have a few digital photos lying around that you, or some family members, would really appreciate having in hard copy, Black's is giving you the opportunity to print a whole bunch of images at a reduced cost. Right now, you can print 75 5x7 photos for just $10. Normally, each 5x7 shot will cost you $0.35 so getting 75 at around $0.13 each is a pretty sweet deal.
One thing to note, though, is that you'll need to have exactly 75 shots to get the promotional pricing. If you're above or below, you'll end up paying the standard price; something you should certainly be aware of if you can't gather the required amount of images. Between you and a few family members, however, we're sure you can make up the 75 shots no problem.
The deal is live now but expires on August 7. To avoid the long lineups and wait times, we'd suggest uploading and ordering online.