Best Buy Canada Ltd
Best Buy Summer Sale: Blu-rays from $4.99, DVDs from $3.99, Save up to $20 on Games and More!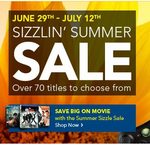 This deal has expired!
If you're looking to get reacquainted with video games and movies this summer, Best Buy's Sizzlin' Summer Sale is a great way to stock up on entertainment at an affordable price. They've put a wide selection of Blu-rays, DVDs and video games on sale so now would be the time to head on over and pick up some TV on DVD shows or highly anticipated games you may have missed out on. Full details can be seen here but some of the more notable video game deals include:
The deals are live now but only until July 12. Stock is likely to move quickly so you'll want to place an order while they're still available online.
Orders over $20 ship free.