Best Buy Canada Ltd
Best Buy: Rayman Origins (Wii/360/PS3) $19.99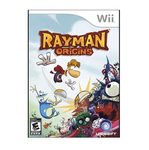 This deal has expired!
If you have some time on your hands and would like to add to your growing backlog of video games, Best Buy has a pretty decent deal on a well reviewed Ubisoft platformer. Right now, you can pick up Rayman Origins for $19.99; down from its current MSRP of $30. Though an older title, Origins is still a fantastic game with tight controls, pleasant visual style and is an ode to platform games of the past (meaning it's not super easy).
We're not sure if this is a permanent price drop or if it's just on sale for an undisclosed time so, if you're interested, you should head on over and pick it up while you can. For reviews on the game, you can check out GameRankings where all three console ports received very high scores.
Because this is $19.99, shipping will be extra unless you find a filler for $0.01.