Amazon UK
Amazon.co.uk Blu-rays: Jurassic Park Ultimate Trilogy ~$21, Jean-Michel Cousteau's Film Trilogy ~$19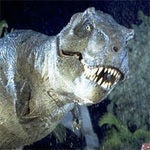 This deal has expired!
Forum user umadbrah found a great deal on the Jurassic Park box set over at Amazon.co.uk. Right now, you can get the Jurassic Park Ultimate Trilogy on Blu-ray for £9.98, which translates to about $21 CAD. Considering that the set is selling for $59.99 on Amazon.ca right now, this is a pretty good deal.
Although the Blu-rays are region free, some of the reviews note that the download codes for the digital copies only work in the UK.
The box set includes Jurassic Park, The Lost World: Jurassic Park and Jurassic Park III. It also includes Return to Jurassic Park, a six-part documentary featuring interviews with the cast, filmmakers and Steven Spielberg, several "making of" featurettes, visual effects features, deleted scenes and more.
If you want more adventure in your order, you might want to consider picking up Jean-Michel Cousteau's Film Trilogy while you're there. The set includes Blu-ray and Blu-ray 3D versions of Dolphins & Whales, Sharks and Ocean Wonderland.
You won't see the prices we've listed above until you are into the checkout process (where VAT is removed since your order is presumably to Canada). Note that there is the possibility of having to pay duties. However, based on previous deals from Amazon.co.uk, we would not expect those fees to exceed 13% of the item cost. Brokerage fees, if charged, will vary by courier/delivery method. Even in worst case scenarios though, you should be still be beating current North American prices by a comfortable margin.