Amazon Canada
Amazon.ca: Rayman: Origins (PlayStation Vita) $14.99 (Reg. $39.99)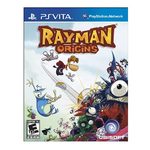 This deal has expired!
Here's a pretty hot video game deal courtesy of Amazon.ca. Right now, PlayStation Vita owners can pick up the well reviewed Rayman: Origins for $14.99. If you've been on the lookout for AAA titles for the Sony handheld, Origins is a game all Vita owners should have in their collection.
The game received an average score of 88/100 and is one of the best handheld games of the generation. Gorgeous visuals, audio composition and tight controls make this platformer worthy of a purchase, especially at $15. At a regular price of $39.99 we'd definitely wait for a sale but it's a steal at over 50% off. If you're not too sure if this one is for you, try out the demo available in the PlayStation Store.
Thanks to AveAtqueVale for pointing this one out!