Amazon.ca
Amazon.ca: Lumines: Electric Symphony $29.99 (Reg. $39.99) w/Free Shipping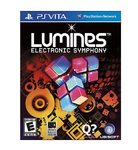 This deal has expired!
If you're into puzzle and rhythm games and own a PS Vita, Amazon.ca has a pretty decent deal on one of the few must-own games for the handheld. Right now, you can pick up Lumines: Electric Symphony $29.99; down from $39.99 and a must have for fans of the block-breaking genre.
While any match-three game is ultimately going to be compared to the infallible Tetris, Lumines takes the genre in another direction, almost literally. While you're busy matching blocks that rain down from the top, a timeline moves horizontally to erase the combinations. Music plays a large part in the game and adds to the experience to the point where you might just forget how long you've actually been playing. If this all sounds like a confusing mish-mash of game play elements, check out IGN for a
comprehensive review
.
The sale is live now and free shipping is available.