Amazon Canada
Amazon.ca: Catherine (PS3/360) $29.99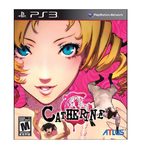 This deal has expired!
From now through to May 7, Amazon.ca has put Catherine for the PS3 and 360 on sale for $29.99. This is currently the lowest price for the Atlus dating-sim/puzzle/horror game which got some pretty decent scores overall. The special edition is also on sale for $49.99, down from $79.99.
It's pretty hard to describe a unique game like Catherine so you're probably better off watching some video reviews from IGN, GameSpot and X-Play. The game is rated M for Mature so it's definitely not for the kids.
The deal is live now and expires on May 7. Free shipping is available.