Amazon Canada
Amazon.ca: Call of Duty: Modern Warfare 3 (PS3/360) $39.99 (Reg. $59.99) w/Free Shipping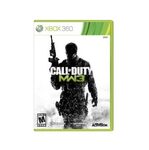 This deal has expired!
Even with the newly announced Black Ops 2 on its way this November, you can still enjoy roughly six months of Call of Duty: Modern Warfare 3 for $39.99 courtesy of Amazon.ca. While we've seen the game hit this price point before, it's worth noting that it only comes around once and awhile as it still retails for close to $60.
Opinions are mixed but if you've wanted to get in on some first-person shooting fun, now would be a good time to pick up this popular title. We're not sure when the sale will end so you'll want to order fast before the price reverts back to $59.99. Just a reminder, this game is rated M for Mature so you'll want to keep this one away from the kids.
Free shipping is available.