Amazon.ca
Amazon.ca: Borderlands: Game of the Year Edition (PS3) $19.99 (Reg. $39.99)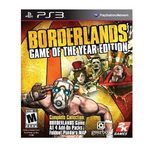 This deal has expired!
If you haven't yet jumped on the Borderlands craze, Amazon.ca has a very good deal you should most definitely check out. Right now, they have the PlayStation 3 version of the Borderlands: Game of the Year Edition on sale for $19.99. If you have some dedicated video game time coming up, and want to play a loot and shoot style first-person action game with tons of replay value and multiplayer options, this is a game you should read up on.
Borderlands 2 is just on the horizon but that doesn't mean the original is any slouch. The first instalment of the series received pretty decent scores and the Game of the Year Edition features the four downloadable content packs that only add to its value and longevity. The PC version of the game was on sale during the Steam Summer Sale for about $10 US but the console iterations have rarely, if ever, dipped below the $20 mark.
The deal is live now but quantities are limited. Amazon offers free shipping over $25, so you'll want to either find a friend who wants to take the trip to Pandora with you or find a $6 filler.