Amazon Canada
Amazon.ca Blu-ray Deals: The Dark Knight $9.99, Inception $10, Sherlock Holmes $10 & More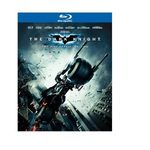 This deal has expired!
With a long summer ahead of us, it might be time to stock up on some good movies for when it's too hot to venture outside. Right now Amazon.ca has good prices on a number of Blu-ray titles ($10 or less in many cases). Here are some popular picks:
Shipping is free on orders of $25 or more -- make sure you get the most for your money!