Amazon Canada
Amazon.ca: Batman Arkham City $39.99, Batman Arkham City: Collectors Edition $59.99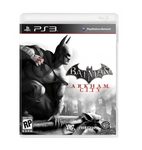 This deal has expired!
Fans of Batman Arkham Asylum rejoice as Amazon has put the sequel to the 2009 hit on sale for the next two weeks. Until April 9, or while quantities last, you'll be able to pick up Batman Arkham City on sale for $39.99. While this wasn't as good as the Boxing Week price of $29.99 at Future Shop, this is still a decent pick up for those of you who are interested in the game. If you've been saving up for the Collectors Edition though, you're also in luck as that's on sale at a reasonable $59.99. At an MSRP of $99.99, we might forego that in favor or just a bare bones copy but that's a pretty good price, especially if you were waiting for a price drop.
Arkham City
received stellar reviews
and is widely considered the best super hero video game ever made. If you're still on the fence about picking this one up, however, you can check out
GameSpot
,
GameTrailers
,
UGO
and
IGN
for reviews. Those may contain spoilers though, just to let you know.
Free shipping is available on orders over $25.
The deal expires on April 9 or while supplies last.