Amazon Canada
Amazon.ca: Back To The Future 25th Anniversary Trilogy on Blu-ray ($25.99) and DVD ($18.99)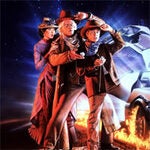 This deal has expired!
Relive the adventures of Marty McFly with the 25th anniversary edition of the Back To The Future trilogy! Today at Amazon.ca, you can get up to 69% off the price of the special edition DVD or Blu-ray pack. Today until midnight, you can get the DVD set for $18.99 (regular $53.99) and the Blu-ray set for $25.99 (regular $83.99).
The Back To The Future 25th Anniversary Trilogy includes all three films, plus bonus features including a six-part retrospective documentary, 16 deleted scenes, outtakes, "Making Of" featurettes, photo galleries and more.
This box set is #7 in Amazon's Bestsellers list and has an average rating of 4.5 stars.