Walmart
Walmart.ca: Nintendo 3DS $119.99 + $0.97 Shipping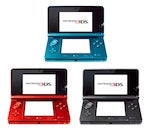 This deal has expired!
If you were holding out for another price drop on the Nintendo 3DS, here's a hot deal you should definitely take a look at. For a limited time, Walmart has dropped the price of the Nintendo 3DS to $119.99. Factor in the $20 mail-in-rebate from Nintendo and you're looking at a brand new handheld for $99.99. At a regular price of $169.99, we'd say a $70 in savings is pretty hot!
The deal is available online and in-store but we wouldn't hesitate to pick one up if you're interested as these units will sell out pretty quickly. Shipping is an extra $0.97 but not a deal breaker at all.
Thanks to sumous12 for bringing this to our attention.