Vistek
Vistek: Canon EOS Rebel T3i w/EF-S 18-55mm IS and EF-S 55-250mm IS $829 (May 3-6 Only)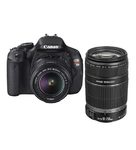 This deal has expired!
With summer sports just about starting up, now might be a good time to invest in a DSLR and a telephoto lens if you have some kids and hope to capture game winning goals and priceless moments. Vistek, thankfully, has a pretty good deal on a popular Canon DSLR and telephoto lens bundle that is sure to get you started on the right track. Until May 6, you can pick up the Canon EOS Rebel T3i with EF-S 18-55mm IS and EF-S 55-250mm IS Lenses for $829. Though that might seem like a pretty hefty expense, especially when you can pick up a point and shoot for a quarter of the cost, this combo is sure to last you awhile and is a huge step up from what you might be used to.
The lowest we can recall the T3i and EF-S 18-55mm IS lens being was $649 and that was on Boxing Day of this past year. The EF-S 55-250mm IS, as such, is a pretty good addition (for $180) to the kit lens as it gives you the ability to shoot from the sidelines without having to navigate too close to the action. Normally, that lens can cost up to $350, so getting it in this bundle is pretty good value. If you're looking at getting into the DSLR scene, this is a decent starter bundle as it covers your mid-range and telephoto needs at an affordable cost.
The deal is live now but will expire on May 6.
Shipping is free.