Visions Boxing Day Flyer Now Available (RFD Exclusive!)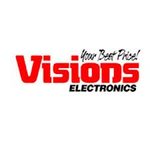 This deal has expired!
We've still got plenty of Boxing Day flyers to go! Next up, we have an exclusive first look at the Visions Electronics Boxing Day Flyer. The sale starts online at 8PM on December 24, and in stores on December 26 at 6AM.
Here are some of the deals that grabbed our attention:
Shaw All Digital HD Receiver - $97.00 (save $40, Dec 26/27 only)
Westinghouse 40" 1080p 120Hz LCD HDTV - $288.00
Polk Audio 10" Powered Subwoofer - $94.00 (save $200)
Canon T3 12MP DSLR w/18-55mm Lens - $386.00 (save $190)
Hitachi 55" 1080p 120Hz LED HDTV - $778.00 (save $600)
Westinghouse 40" 1080p 120Hz LED HDTV - $388.00 (save $200)
Harmon Kadon 350w A/V Receiver - $258.00 (save $240)
Pioneer / Polk AUdio 5.1 Channel A/V Receiver Plus Performance Speaker Package - $748.00
Save 10% on all Beats Headphones
Magellan 4.3" GPS with Lifetime Maps - $44.00
Samsung Galaxy 2 Tablet 7" Android Tablet - $198.00